guidelines to charting your fertility cycle, page 20 of 26
3. Changes in the Cervix Itself
The cervix (neck of the womb) changes its shape and position during the menstrual cycle and these changes can be used as another indicator of fertility, if a woman chooses. It involves internal examination, which some women are reluctant to do, but the key changes in the cervix are particularly useful at times of altered fertility, such as breastfeeding and in the menopause years. It takes time and patience to master these changes, and some changes are more noticeable than others, for different women. This is an optional indicator. The mucus and Temperature changes are the most important ones and fundamental to the Sympto-Thermal Method of NFP.
how to examine your cervix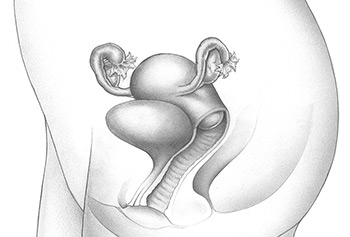 Start when the menstrual bleeding has stopped.
Check it at the same time each day as it is always lower at the end of the day anyway.
Empty the bladder first and observe good hygiene by washing your hands well.
The cervix can be felt either squatting, sitting on the toilet, or with one foot raised on a stool.
Gently insert one finger (some prefer to use two) high into the vagina, as you would insert a tampon, and feel for the nose-like projection into the upper part of the vagina.
Check the position, shape and opening of the dimpled cervix.
Before ovulation, the cervix will feel:
a) FIRM - like the tip of the nose
b) LOW - easy to reach
c) CLOSED
d) DRY
Approaching ovulation, the cervix will feel:
a) SOFT - like chin
b) HIGH - harder to reach
c) OPEN
d) WET
After ovulation it reverts to bleeding:
a) FIRM - like the tip of the nose
b) LOW - easy to reach
c) CLOSED
d) DRY

Chart the changes as illustrated:
Put a black circle for closed, and open circle for an opening cervix.
Put the circle high or low in the box according to the level of movement, as illustrated.
During the fertile phase, some find the cervix rises so high that they cannot reach it.
Others find the opening /closing a very convincing indicator, or the changes soft to firm.
You may not want to use this indicator, but it's worth knowing about anyway. You may want to use it at a different stage of life - breastfeeding, for example, when cycles can stop for many months. It can then become a very useful double check for mucus symptoms.